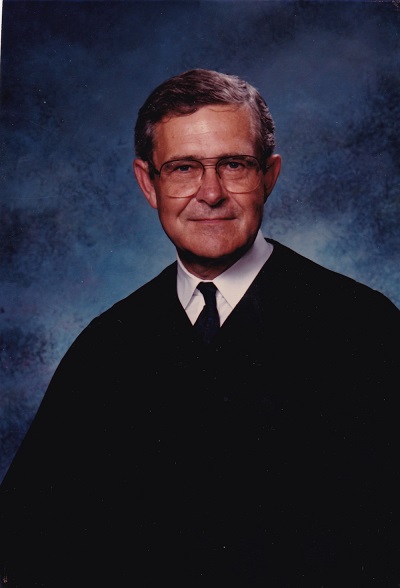 May 7, 1933 - April 15, 2017
Visitation
Thursday, April 20, 1-3 and 5-8 p.m. at Moreland Funeral Home
JOHNSON

The Honorable David L. Johnson, artist, scholar and soldier, died after a brief illness on April, 15 th . David

was born in Lima, Ohio to Helen and Frank Johnson on May 7, 1933. He married Sharon Lee Wren in

1954. David was preceded in death by his beautiful rabble-rousing wife, Sharon, and his beloved

brother, Daniel "Danny". He is survived by his children, Sally Johnson (Gary), Leslie Mullen (Tommy),

David A. Johnson (Ann Bancroft), Chad Johnson (Tiffany); grandchildren Sharon Hibbitt, Margaret

Anderson, Travis Mullen, Taylor Mullen, Katie Mullen and Addison Johnson. He was loved by many great

grandchildren, nieces and nephews. David graduated from Lima Central High School and then attended Ringling School of Arts in Sarasota. After a year in Sarasota he was drafted into the U.S. Army. He determined to make this a career and enrolled in Officers Candidate School with a focus on Engineering. He attended aviation school and was a certified aviator in fixed wing and helicopter of which the Huey was a great love. David earned his

BGE at the University of Omaha in Military Science, and an MBA in data processing from George

Washington University. He attended The US Army War College in 1972-73. He achieved numerous other

military certifications in his lifetime. David served two tours in Vietnam where he was part of the first air-mobile division. He was a Major during his first tour and then during the second tour he was a Lt. Colonel and a battalion commander. He flew over 2,800 combat hours. As a result of his time in-country and exposure to Agent Orange, he ultimately suffered from Parkinsons disease for many years. David was humble in his achievements, but his family is proud of his bravery and unwavering honor. Among the many medals awarded to David are 4 Legions of Merit, 4 Distinguished Flying Crosses, 3 Bronze Stars and 43 Air Medals with Valor. He was stationed at the Pentagon from 1973-76 in the Office of the Comptroller. After retirement in 1976, he earned his law degree from The Ohio Start University. He was with the prosecuting attorneys office from 1978-88 and then was elected as Judge in the Franklin County Court of Common Pleas from 1988 until his retirement in 2004. David was a Freemason (York-0563) and member of The Grand Lodge of Ohio, F&AM, and a member of the VFW.

The Johnson family enjoyed being stationed over-seas and in many states in the U.S.A. With his wife he traveled to Spain and Portugal, his favorite foreign countries. In addition to spending time with his loved, loved, loved baseball. David was famous for whipping up souffles at midnight during game-nights. He couldnt swim but he loved his pool. Sharon wouldn't allow him in the pool alone. They surprise to find out what music would be playing when you walked into the Johnson home, flamenco, Celtic, or opera. Great food and good music! David will be remembered by family, friends and colleagues as an exceptional human being. In lieu of flowers please make donations to the Parkinsons Foundation, Wounded Warrior Project or to the Vietnam Veterans of America. Friends may call at the MORELAND FUNERAL HOME, 55 E. Schrock Road, Westerville, OH Thursday from 1-3 and 5-8 p.m..
Condolences
Don Still - Apr 20, 2017
Remember when i was coaching baseball and had Chad and David along with my son Jason on the team. One day Mr. Johnson approached me and being the humble man he was asked if he could be my score keeper.
Of course i said yes never knowing his Story. What a great man. Later when all the boys were wrestling he was always there with a book reading in between matches. Been a while but last time saw him at Kroger and shared a few memories. Thoughts and prayers with the family.
Anne McCarty - Apr 19, 2017
Sally, my deepest condolences to you and your family upon the passing of your father.
TOM DAVIS - Apr 18, 2017
It was my honor to appear before Judge Johnson many times in my career. Although I was a civil lawyer, before he was a judge I'd see him in a courtroom as a fellow attorney and he was always professional and gracious. I am very sorry for your loss and the loss of a great member of the bar in Columbus.