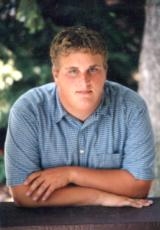 April 27, 1985 - February 15, 2015
Visitation
Saturday and Sunday, February 21 and 22, 2015, from 2-5 p.m., Moreland Funeral Home
Service
Monday, February 23, 2015 10:30 A.M. St. Paul the Apostle Catholic Church
BUECHNER
David P. Buechner, age 29, of Westerville, passed away February 15, 2015. Family Nurse Practitioner with Walgreen's Clinic and with Pulmonary Consultants; formerly employed by St. Ann's Hospital. Graduate of St. James the Less where he served as an altar server, St. Francis DeSales High School where he was captain of the swim team, Columbus State Community College, The Ohio State University (BS) and Otterbein University (MS). Member of Sigma Theta Tau (Nursing Honor Society) and American Academy of Nurse Practitioners. Survived by his mother, Dana (Barry) Buechner-Wiegand; brothers, Sean (Janet) and Ryan (Kim) Buechner; grandmother, Marlene Hyett; step-brother, Rick (Christy) Wiegand; step-sister, Kris (Mike) Leggett; nieces, nephews, aunts, uncles and cousins. Preceded in death by his father, William L. Buechner. Friends may call at the MORELAND FUNERAL HOME, 55 E. Schrock Road, Westerville, Saturday and Sunday from 2-5 p.m.. Funeral mass will be held at St. Paul the Apostle Catholic Church, 313 N. State Street, Westerville, Monday at 10:30 a.m., Rev. Fr. David E. Gwinner, celebrant. Private interment.
Condolences
Laurie Ducatte - Feb 23, 2015
Dear Dana, I am so sorry for your great loss. I enjoyed getting to know David during my time at CSCC. Please know I am praying for you and your family. Sincerely, Laurie Ducatte
April Magoteaux - Feb 22, 2015
Dear Dana and Barry,
My heart aches with this loss of such a special, fun, and talented man. He will be missed.
Fondly, April
Julie and Dan Walsh - Feb 21, 2015
Our prayers are with you and your family. We loved Dave. Always had a smile and a joke for everyone he met. Memories of him swimming at Desales bring a smile to his memory. He will be dearly missed. Love Julie and Dan Walsh
Barb Barson - Feb 21, 2015
Dana,Barry, and family,
I am saddened to hear about David. I had the pleasure to know him as a young boy, and saw him grow to be a brilliant man. My thoughts and prayers are with you at this time. Barb ( Verhoff Dental )
Amy Weber - Feb 21, 2015
I am so sorry to hear of your great loss. David was such a smart, talented, hard-working and wonderful young man. My sympathy to you and your family. May God's strength and comfort be with you.
Elizabeth McCarter - Feb 19, 2015
Ryan and family – on behalf of the McCarter family and your entire Sevier Aquatic Club family – we are keeping you close in our thoughts and prayers. Praying for God's peace and comfort to surround you.
Dorothy Crider - Feb 19, 2015
Dear Dana and family,
So sorry to hear about your loss. I pray that you can feel the presence of Mother Mary and the Holy Spirit during this very sad time. I always enjoyed my conversations with David.
Dorothy
Melissa Nethers - Feb 18, 2015
Dana and family, Oh Dana I am so sorry to hear about David. He was so wonderful and loved by all who knew him. All my love and prayers. Melissa
Kristan Erdogan - Feb 17, 2015
My thoughts and prayers are with you during this difficult time. I have fond memories of David while in nursing school at CCSC. His quick humor and infectious laugh, especially during clinicals, decreased our stress levels and made school fun. RIP David.
Jane Winters - Feb 17, 2015
Dear Dana and Barry and Family,
I am sorry for your loss. I am thinking of you very much. I will always remember David, and how much you love him. You are in my prayers.
Very sincerely,
Jane