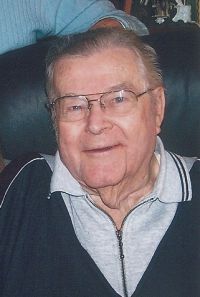 October 27, 1931 - February 8, 2014
Visitation
Thursday, February 13, 2014 from 5-8 p.m., Moreland Funeral Home
Service
Friday, February 14, 2014 10 a.m., Central College Presbyterian Church
MEABON
D. Roger Meabon, age 82, of Westerville, OH, passed away at Riverside Hospital February 8, 2014 surrounded by his family. Retired from Nationwide Insurance Co. after 32 years. Member of Central College Presbyterian Church. Survived by his wife of 59 years, Elizabeth (Betty) Meabon; children, Mark (Pam) Meabon of Dillsburg, PA, Sue Ann (Jim) Langenbach of Westerville, Ellen (Carr) Mumford of Charlotte, NC and Beverly (Fawaz) Hamoui of Westerville; 10 grandchildren and 6 great-grandchildren; many nieces and nephews. Friends may call at the MORELAND FUNERAL HOME, 55 E. Schrock Road, Westerville, Thursday from 5-8 p.m.. Service will be held at Central College Presbyterian Church, 975 S. Sunbury Road, Westerville, Friday at 10 a.m., Dr. Richard Ellsworth and Rev. David M. Redding, officiating. Interment Blendon Central Cemetery. In lieu of flowers, contributions may be made to Central College Presbyterian Church or the American Heart Association.
.
Condolences
Steve Enz - Feb 14, 2014
Sorry to miss the service. Karen and I are thinking of you all.Will return March 3
Deb Weaver Ace - Feb 12, 2014
Oh Betty……..I am so very sorry about Roger. Mom and Dad both had such good memories of you both. Over the years Mom often spoke of your days growing up and then going to nursing school together and how easy you had it because you were so smart. 🙂 Mom treasured your friendship so. She loved hearing your travel adventure stories and always shared them with me. Please extend my deepest heartfelt condolences to Mark, Sue and Ellen and their families. Fifty-nine years! How very blessed you were to have your love with you that long. I pray that our Jesus wraps you in His arms and brings His amazing comfort and peace to you as the days, months and years pass by on this earth. He'll surely be waiting for you when you arrive Home. Sending much love to you from Ninevah.
Deb
Carey Campbell Dunbar - Feb 12, 2014
So sorry to hear of Mr. Meabon's passing. He and you Mrs. Meabon and all your family are in my prayers. I have wonderful memories of growing up next to you and enjoying all the beautiful nature by way of your special paths in your back yard.
Tom Weaver - Feb 11, 2014
Betty,
Love and prayers to you and your family from Knox. You two were such wonderful friends to my parents……..Carole & Woody Weaver.
Tom & Kathi Weav
Nancy Douden - Feb 11, 2014
Betty & Family
sorry to hear of Rogers passing, my thoughts
and prayers are with you and your family.
Nancy Douden
Linnea - Feb 11, 2014
Sue and family, I am so sorry for your loss. There are no words that will fill the hole in your heart. Please know that I care.
Buffie Kramer - Feb 11, 2014
Sorry to hear of your dads passing… thinking of you!
Dane Campbell - Feb 10, 2014
R,
It was cool to know we grew up right next to you. Now with my own family, I know what it is a like to have caring neighbors. Thanks for being there…and maybe slighted, but thanks for the "blue egg" (old MG) landing in our family. It will never be sold from the Campbells.
May God adore you in heaven.
Kind Regards,
Dane Campbell
Skip & Bev Campbell - Feb 10, 2014
Dear Betty,
Extending deep and heartfelt sympathy to you and your family.
Roger was a wonderful neighbor and friend.
Love,
Skip & Bev