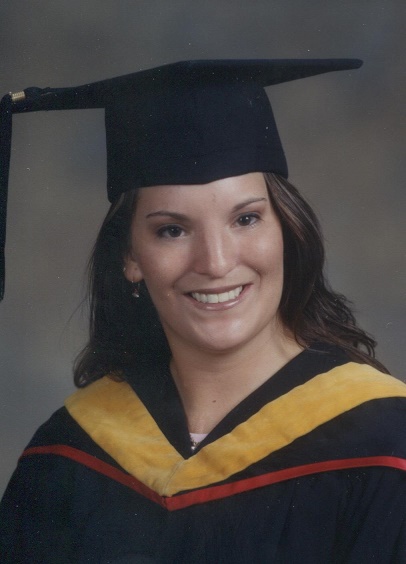 November 27, 1978 - July 23, 2015
Visitation
Friday, July 31, 2015 from 2-4 and 6-8 p.m., Moreland Funeral Home
Service
Saturday, August 1, 2015 10:30 a.m., Central College Presbyterian Church
Burial
Groveport Cemetery
WILLIAMS
Courtney Lynn Williams, age 36, after her life long battle with congenital heart disease passed through Heaven's Gate July 23, 2015 while at Cedars Sinai Hospital in Los Angeles awaiting a heart transplant. Courtney was born November 27, 1978 in Columbus, Ohio. The daughter of Christine Gockenbach and Keith (Bo) Williams. Graduated with distinction from The Ohio State University with a Masters of Education. She was a member of the Delta Zeta Sorority. She was also a graduate of Dublin Coffman High School 1997. Courtney taught math and science at Galloway Ridge Intermediate School in the Southwestern City school district. Her life long passion was teaching. She received many teaching awards, including several awards for Teacher of the Year. Although she struggled daily with her own health issues "Always Paying Forward" was how she lived her life. Community service and volunteering gave her great joy and comfort. She was a founding member and officer of Mended Hearts of Ohio. She was a volunteer for Big Sisters, Ronald McDonald Charities, American Heart Assoc., and Little Mended Hearts. Courtney also was involved in may professional and church groups. She, particularly, loved her Bible Study group. Courtney's life was all about the love she had for her family, many friends, and her students. She gave to all who knew her the life's gifts of Strength, Love, Hope, and Courage. Preceded in death by grandparents, Luther and Marie Williams, grandfather, Charles Green; step-grandparents, Marie and Earl Gockenbach; uncle, USN Captain Tom Williams and beloved cousin, Tasha Williams Gunn. Survived by her mother, Christine (Trey) Gockenbach; father, Keith "Bo" Williams; stepmother, Nancy Williams; grandmother, Vivian Green; sisters, Sherry (Scott) Carrier, Jennifer Williams; brother, Ryan Williams; step-brothers, Derek (Amy) Robinson and Greg (Sarah) Robinson; beloved nephew, Quinn; also a host of aunts, uncles, nieces, nephews and cousins. The family wants to extend sincere thanks to Dr. Curt Daniels and the staffs of Nationwide Childrens Hospital and the OSU Ross Heart Center. Visitation will be held 2-4 and 6-8 p.m. Friday, July 31st at the MORELAND FUNERAL HOME, 55 East Schrock Rd, Westerville. A Celebration of Life Service will be held 10:30 a.m. Saturday, August 1st at Central College Presbyterian, 975 Sunbury Rd., Westerville, OH 43081, Rev. Dr. Richard Ellsworth, officiating. Interment Groveport Cemetery. In lieu of flowers, donations may be made to Mended Hearts of Central Ohio, 7774 Brandonway, Dublin, OH 43017.
Condolences
william Beston and Rebecca Diemer - Jul 29, 2015
We are sorry to hear of your loss. She made this earth a much better place and we know that she is with God now and her suffering is over.
We know that the love that her family shared with her, made her life so full and so giving. WE will keep you in our thoughts and prayers.
Hamm family - Jul 29, 2015
I am so sorry for your loss. May "the God of all comfort" help you cope during this difficult time of sorrow… (2 Corinthians 1:3,4) And may his promises found in his word the Bible give you a hope for the future regarding your dead loved ones. The following link will take you to a tract entitled, Can the Dead Really Live Again? It has brought many comfort and I hope it will do the same for you during your time of loss. http://www.jw.org/en/publications/books/dead-live-again-tract/dead-live-again/
Larry/Beverly Beckwith - Jul 28, 2015
We have known Courtney since early in her childhood through our good frients, Trey and Chris Gockenbach, stepfather and mother to Courtney. Her young loss is crushing to all of us. Despite her health issues she was an inspiration of joy to to everyone she encountered. We offer our hearfelt condolences for your loss of such an inspirational young lady. She will be missed by family, countless friends and those whose lives she touched and inspired. God bless her.