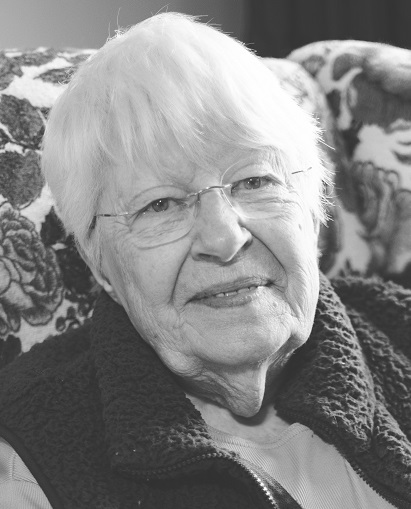 February 5, 1935 - May 10, 2022
Visitation
Sunday, May 15 from 5-7 p.m. at Moreland Funeral Home
Service
Monday, May 16, 2022 at 10:00 a.m. at Moreland Funeral Home
Burial
Blendon Central Cemetery
On May 10, 2022, the Angels called and carried me, Cora Loulinn Ten Eyck Hursey, to my new home in Heaven, for which I have longed to go. I am not an angel, rather, I was saved by the blood of Jesus. I had been suffering from pancreas cancer for some time.

On February 5, 1935, I was born in the home of my grandparents, Daniel and Bertha Ten Eyck, which was located on Ohio Route 4 north of Bucyrus, Ohio.

In 1953 I graduated from Bucyrus High School and enjoyed reunion luncheons with my classmates, most recently on May 3 rd . As an adult I worked for North American Rockwell (as a blueprint clerk), Western Electric (as a terminal assembler), and 27 years at Worthington Foods (as an oiler doing general maintenance) when I retired.

I am leaving behind my beloved family; children, Brenda (Dale) Turner and Donald (Chenessa) Hursey, stepchildren Anne (Randy) Smith and Edward (Joanne) Hursey, grandchildren Christopher (Dara) Turner, Jamie (Christopher) Schwanekamp, and Steven (Monique) Turner, step grandchildren Shawn (April) Smith and Jonathan (Erica) Smith, and six greatgrandchildren Rachel (Conner)
Schwanekamp Blair, Owen Schwanekamp, Nicholas Turner, Sebastian Turner, step greatgrandchildren Chase Smith, and Haili Smith. I am also survived by sister Shirley (Bill) Hancock; brother Carl (Edie) Ten Eyck; and numerous nieces and nephews. I was preceded in death by my husband Edward Bud Hursey, daughter Bonnie Sue; my parents Perry & Cora Ten Eyck, and my brothers & sisters Arthur (Ruth), Robert (Catherine), Vivian (Herman), Violet (Louis), James (Jeanne), Charles (Janet) and Judy (Wayne).

Until recently, I was a regular attendee of the Dayton Woodcarvers and Mansfield Carvers shows. I was also a member of the Columbus Chippers and donated many carved eagle head canes to veterans.Some of my favorite carved creations were a large Noahs ark, two working carousels, and a nativity set. I also collected nativity sets and spoons. Crocheting animals for Cole, Bash, and others was something I enjoyed doing in the last few years. I also made, and gave away, blankets and doilies. For much of my adult life I was very involved in genealogy and enjoyed sharing with anyone who was interested, making friends along the way.

In 1966 I accepted the Lord, and followed Him faithfully through the years, finding out how much He cared for me and depending on Him all my life. He was so great to allow me time to get my house in order before leaving this world and all my family and friends. I longed to go and be free of my painful body and looked forward to being able to hear the angels sing, after being so deaf all my life. My desire is for others to commit their lives to the Lord, as He is waiting by your side so we can all spend eternity together.

In lieu of flowers, please consider donating to OhioHealth Hospice. They have been wonderful and helped to take care of all my needs. OhioHealth Foundation, 3430 OhioHealth Parkway, Columbus, OH 43202-9928 or https://foundation.ohiohealth.com.

Friends may call at the Moreland Funeral Home, 55 E. Schrock Road, Westerville, Sunday May 15th from 5-7 p.m. where service will be held Monday at 10 a.m., Chaplain Thomas McGraw, officiating. Interment Blendon Central Cemetery.
Condolences
Stephen Ten Eyck - May 16, 2022
Coco was such a wonderful and caring person who would do anything for you. Such a sweet lady that everyone loved. I will miss her chats so much but will see her again someday and spend all eternity with her. Looking forward to that time! Heaven gained an angel today.