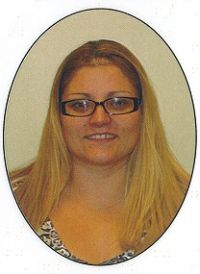 January 15, 2011
Visitation
Thursday, January 20th from 6-8 pm
Service
Friday, January 21, 2011 11:00 AM Moreland Funeral Home
TRIPLETT
Chrystal Marie Triplett, age 30, passed away at home Saturday, January 15, 2011. Preceded in death by her son, Ethan King; sister, Leslie Dawley and many grandparents. Survived by two daughters she loved very much, Justice and Juliette King and their father, Billy King; parents, Wendy and Greg Dawley; father Brad Triplett; sisters, Jessica Dawley and Heather Triplett; brothers, James Dawley and Brad Triplett, Jr.; niece, Lilyona Estrella; grandparents, Larry and Anna Nutt and Sylvia Dawley; many aunts, uncles and cousins. Friends may call Thursday, January 20th from 6-8 p.m. at the MORELAND FUNERAL HOME 55 East Schrock Road, Westerville, where service will be held Friday, January 21st at 11:00 a.m.. Rev. Richard Harding officiating. Interment Pioneer Cemetery.
Condolences
Linda J. Salyers - Jan 21, 2011
No words can erase your pain but I hope that knowing how much you are loved will help you make some sence of this tragedy.
wgzywhq - Jan 21, 2011
RBeZJa zbwvxfewzdnh, [url=http://srljvkjnrslp.com/]srljvkjnrslp[/url], [link=http://ybvrvtjsafee.com/]ybvrvtjsafee[/link], http://wiukmqcyhiho.com/
alison fordyce - Jan 18, 2011
Words can not express how much I am hurting for your loss. You are all in my prayers and if there is anything I can do please let me know. Chrystal was such an amazing woman and we were all blessed to have her in our lives. She will be missed greatly.
Your Honda Faimly - Jan 18, 2011
Wendy
There have been so many people here at work asking about you and your family. Everybody is with you at least in spirit with lots of prayers, good wishes and sympathy. We are all very sorry that you must go through this situation. If there is any way we can help please let us know.