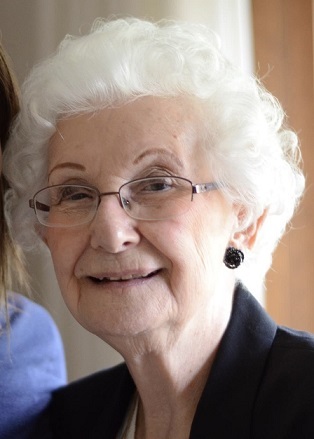 August 7, 1927 - May 15, 2022
Visition
Saturday, June 4th from 9-11 a.m. at Moreland Funeral Home
Burial
Glen Rest Memorial Estate
Christine D. Winkelman, age 94, of Westerville, Ohio passed away peacefully on Sunday, May 15, 2022. Born Christine Dieudonne Beekink in Padang, Sumatra, Indonesia in 1927, she was one of four children. After marrying Max Winkelman in Indonesia in 1947, the couple moved to the Netherlands, where their three sons, Jack, Leo, and Martin were born. The family immigrated to the United States in 1959. Christine was a devoted wife, a loving mother and grandmother, and a dear friend. She kept a welcoming home and beautiful gardens which were once recognized in the annual Westerflora garden tour. She was a delightful hostess and a talented home chef and baker who took pride in her cultural heritage through food. She was quite talented in embroidery, sewing, and knitting. Christine and Max enjoyed traveling and together explored many parts of the world. They stayed closely connected to relatives in the Netherlands and other parts of the United States, visiting often. Christine enjoyed a long and full life and was a joyful and positive person, though her life was not without hardship. She suffered the tragic loss of a child twice; her sons Jack Winkelman in 1971 and Martin Winkelman in 1997. Her beloved husband, Max Winkelman also preceded her in death in 2013. Christine is survived by her son, Leo Winkelman; granddaughters, Michelle Winkelman and Nicole Winkelman, their spouses, and their mother, Monique Winkelman; and 3 great-grandchildren, Tristan, Flynn, and Harper. The family will receive visitors on Saturday, June 4th, from 9-11 a.m. at Moreland Funeral Home 55 East Schrock Rd., Westerville, OH 43081. Christine will be laid to rest at Glen Rest Memorial Estate. In lieu of flowers, memorial donations can be made to The Alzheimer's Association, St. Jude Children's Research Hospital, or Capital City Hospice.
Condolences
Gary Winegardner - Jun 3, 2022
To Leo and family, my heartfelt condolences to you on your loss. Leo, I met you at your dad's funeral visitation a few years ago. I sat in the same Bell Labs office with your dad for 3 or 4 years in the '68 to '71 range. Max and I talked many times, and I know what a great and wonderful family you were. God Bless you and your family. Gary Winegardner
Madeleine (Maddy) Collinson - Jun 3, 2022
Dear Christine will be missed greatly! Please accept our most sincere condolences. Lots of strength and love for Leo and family, Maddy and family
The Truxall's - Jun 1, 2022
We are so sorry to hear of your loss. Wishing you peace during this difficult time.
John Batista - Jun 1, 2022
I am so sorry to hear of Christine passing. Even though I never met her,Leo and I spoke of her often. Leo would visit her and he would relate to me and friends his visit and how sharp she was. Please accept my condolences. John
Dr Van Balen , Mary lou - May 31, 2022
We are so very sorry for your loss ! Thoughts and prayers are with you Leo and family !
Dr Van Balen , Mary lou - May 31, 2022
We are so very sorry for your loss ! Thoughts and prayers are with you Leo and family !