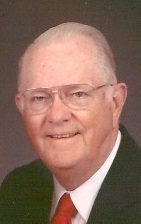 May 7, 1924 - November 6, 2015
Visitation
Tuesday, November 10th from 4-8 p.m.
Service
Wednesday, November 11th at 12:00 p.m. St. Paul the Apostle Catholic Church
STOKES
Charles Edward Stokes, age 91, of Westerville, OH passed away peacefully at home with family on Nov. 6th 2015. Born in Worthington, OH on May 7, 1924, Chuck is preceded in death by his parents, Charles & Anita; sister, Betty Bauder; brothers, Jack Stokes & Ray Stokes. Chuck is survived by his loving wife of 72 years, Kathleen; sister, Janet Hambleton; children, Pat (Brenda), John (Bambi), Kathy (Tim), Jeff (Jennifer); grandchildren, Holly (Kurt), Patrick (Elizabeth), Karen (Kevin), Ken (Jodi), Melissa (Brian), Mike (Nicole), Jeffrey (Belinda), Chelsea (Orlando), Greg (Katie); 20 great grandchildren and 1 great great grandchild. Beloved by many nieces & nephews, cousins, and special friends. Served in WWII in the Coast Guard. Married Feb. 12, 1944 at Sacred Heart Church. Worked and retired from Dennison Engineering. Member of the Swiss Club & Knights of Columbus. Enjoyed singing with the Barbershop Quartet, Senior Center, and many other choirs. Enjoyed playing cards and partying with Windemere neighbors. Loved horse racing, OSU athletics, and bowling. Spent several winters in Florida. Known as 'Chargin Chuck' at Malibu racetrack. He will be dearly missed by all, but celebrated for being at peace with his creator. Family will receive friends at MORELAND FUNERAL HOME 55 East Schrock Road in Westerville from 4:00 to 8:00 PM on Tuesday November 10th with a prayer service at 7:30 PM. Service will be held at St. Paul's Catholic Church 313 North State St. Westerville, OH 43082 at 12:00 noon on Wednesday November 11th. Luncheon to follow at the church. In lieu of flowers, donations can be made to Heartland Hospice 6500 Busch Blvd. Columbus, OH 43229. Special thanks to Heartland Hospice for all of their loving care. Condolences may be made at www.morelandfuneralhome.com
Condolences
Michele harrison - Nov 15, 2015
Kathleen I was so shocked when I heard Chucks name mentioned in the prayers of the faithful tonight. Please know you and your family are in my prayers. Chuck touched many hearts including mine.
Shirley Jensen&Mary Lou DeFrancisco.(cotton) - Nov 12, 2015
Dear Kitty and family. Just to let you know Mary Lou and I are thinking about you. You and Chuck had a lot of good years together. And so many gra ndchildren. You are lucky to have so much love. Our prayers are with you. Peace
Caren H - Nov 11, 2015
Mrs.Stokes, Pat, John, Kathy, Jeff and families,
Please accept my deepest sympathy in the passing of your husband, father and grandfather. He was one of the nicest and most loving people I have ever known. His character and integrity as a husband, father, and grandfather are to be admired by all. May God bless you and keep you in his care during this difficult time.
Love to all,
Caren
Jo Ann Wright - Nov 9, 2015
Kathy/Tim
Sorry to hear of the loss of your Dad. May you find peace at this sorrowful time.
Jo Ann