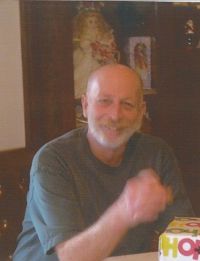 February 28, 1957 - November 1, 2013
Visitation
Tuesday, November 5th from 4-8 p.m.
Service
Wednesday, November 6th at 11 a.m.
MONTGOMERY
Charles W. Montgomery, 56, of Centerburg died at home sdurrounded by family and friends on November 1, 2013. He was born February 28, 1957 in Licking County and was a lifelong resident of Knox County. He spent many years working on the family farm located south of Mt. Liberty. He owned his own fleet of semi trucks and was maintenance and fleet supervisor at SBC Recycling in Croton for over 20 years. He is survived by his parents, Richard & Nancy (Warner) of Centerburg, his loving wife of 17 years Linda (Bowers), blended family members; Christine of Mt. Vernon, Mandy Rittenhouse of Mt. Vernon, Mindy Rittenhouse of Manchester, KY, Wayne Rittenhouse of Centerburg, Bobby Love (Ashley Ard) of Mt. Vernon, 7 grandchildren including special grandchild Jordyn Horlacher of his home. Also surviving are his brothers; Jeffery (Mary Durbin) and Brian (Cindy) both of Centerburg, sisters; Susan (Martin) Haslehurst of Danville, Elizabeth of Alexandria and a multitude of aunts, uncles, cousins, nieces and nephews. He was preceded in death by his brother Eugene in 1975, all of his grandparents and several aunts, uncles and cousins. The family wishes to express their deepest gratitude to the Hatfield family at SBC Recycling for their caring and support and to Heartland Hospice. Friends may call at the JOHNSON-MELICK-MORELAND FUNERAL HOME 49 West Church Street Centerburg Tuesday 4-8 p.m. where service will be held 11:00 a.m. Wednesday November 6, 2013 with visitation one hour prior to service. Ernie Moreland officiating. Interment Mt. Liberty Cemetery.
Condolences
Bob Harrod - Nov 4, 2013
So sorry!!!! You are in my prayers. Bob Harrod
Lyman Gates - Nov 4, 2013
I am so sorry.If i can help you please call.