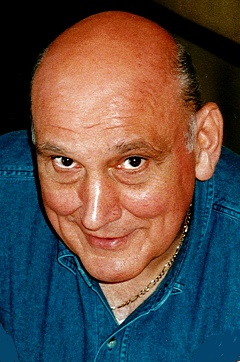 September 24, 1942 - January 21, 2015
Visitation
Friday, January 23rd from 6-8 p.m., Moreland Funeral Home
Service
Saturday, January 24th at 10:30 A.M. Church of the Messiah United Methodist
Burial
Blendon Central Cemetery
MAMULA
Charles Mamula, loving husband, father, and grandfather, passed away Wednesday, January 21st, at age 72. His love for family, football and food leaves many cherished memories. His strength came from the Lord whom he loved. (Isaiah 40:31) He read the entire bible 5 times. He graduated from Martins Ferry High School in 1960 and The Ohio State University where he played football under Woody in 1960-1963. He married the love of his life, Carolyn, in 1962. Preceded in death by his parents, Duke and Dorothy. Survived by wife Carolyn; children, Melissa (Mark) Aeilts, Charles (Julie), Nick (Meghan); 8 grandchildren; brothers, Terry (Laura) and Dan (Doris). Visitation Friday from 6-8 pm at MORELAND FUNERAL HOME, 55 E. Schrock Rd., Westerville. Funeral service will be held Saturday at 10:30 am at Church of the Messiah, 51 N. State St., Westerville, OH 43081. Graveside service and interment Blendon Central Cemetery followed by a luncheon at the church. Donations can be made to Church of the Messiah-Missions Fund. Online condolences can be made at morelandfuneralhome.com.
Condolences
connieweeks - Jun 8, 2015
I worked with Chuck at Lundy's and did not learn of his death until later in the month. So sorry for your loss and I was hoping he would come back to see us. Did not know he was so sick. Please know that I loved working with him and will never forget doing a facial birthday balloon for him and he burst it!! God Bless you and your family, if you ever come back to NC stop in and visit us.
Collette Kaster - Jan 29, 2015
Carolyn,
Betty told us all about Chuck. So very sorry for your loss; I sure enjoyed knowing you both. Everyone was reminiscing on Facebook about how great he was to work with and how much they learned from him.
Our thoughts are with you.
Collette
Becky Tyndall - Jan 28, 2015
Was truely sorry to hear of Chucks passing. he was certainly a very good friend. I worked at Lundy's when he was here. Heaven has certainly gained an angel. May he wrap his heavenly wings around each of you and remember he is in a much better place than any of us.
Mel Seabright - Jan 24, 2015
I went to high school with Charlie. He was a great guy and an awesome football player. I have many fond memories of him. Please know that I will be thinking about all of his family as they mourn his loss.
Jim Burton - Jan 24, 2015
I have nothing but good memories of Uncle Charlie. It is safe to say that he lives in all of us because of the way he affected everyone with his contagious love of life. Respect and condolences to the family and friends.
Frank Voytko - Jan 24, 2015
I am sadden to hear the news of Chuck's death.
My thoughts and prayers are with the Mamula family during this very difficult time. God Bless all of you.
Frank & Carolyn Voytko
Kim and Bobby Moses - Jan 23, 2015
Our thoughts and prayers are with all of you, RIP Uncle Charlie we will sure miss those bear hugs. Sending our most heartfelt prayers of love and peace.
The Peterson's, Bernie, Sandy & Jennifer - Jan 22, 2015
We send our thoughts and love. Charlie was a great guy and he will be missed.
Dan & Peggy Wessel - Jan 22, 2015
So sorry for your loss . Our thoughts & prayers go out to the entire Mamula family. RIP Mr. Mamula.