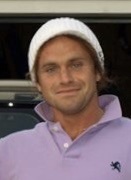 June 13, 1984 - January 10, 2018
Service
Saturday, January 20th at 2:30 p.m. at Ohio Wesleyan University
Burial
Central Ohio Crematory
Carl Fitzgerald Earls, III, age 33, passed away peacefully after a brief illness surrounded by his loving family, Wednesday, January 10, 2018 at Riverside Hospital. Carl was born June 13, 1984 in Columbus, Ohio. Graduate of Thomas Worthington High School and was an accomplished painter and construction worker. He was a handyman extraordinare and could repair or build anything. Family meant everything to Carl. He never met a stranger and would do anything for anyone. His hilarious sense of humor and sea blue eyes will be missed by all. Carl was an avid sports fan and he especially loved his OSU Buckeyes and the Cleveland Cavaliers. He loved to play golf, tennis, and fish and was an accomplished in-line skater in his youth. Survived by parents, Carl and Kathy Earls; brother, PFC Cody Earls (U.S. Army); grandparents, Carl and JoAnn Earls and Helene (Pat) Felty; aunt, Jennifer Castillo, aunts and uncles, Mark and Nikki Lambert, Ken and Katie Lippincott; great-aunts and great-uncles, Geoff and Kay Steele, Bob and Sandy Westfall; uncles, Terry and Scott Bowman; cousins, Jessie Castillo, Nathan and Anna Lippincott and Brittani Wheeler; numerous second cousins; brother in spirit, Adam Wible and his beloved dogs, Nahla and Lucky. Preceded in death by grandma, Patty Earls, grandma, Patricia Fitzgerald Felty, grandpa, Roger Felty and great-grandma, Kathryn Felty. There will be a Celebration of Life Saturday, January 20, 2018 at 2:30 p.m., Ohio Wesleyan University, Merrick Hall 301, Delaware, OH. Rev. Rock Jones, Ph.D. officiating. The family requests that you dress in Ohio State clothing in memory of Carl. Arrangements completed at MORELAND FUNERAL HOME, 55 E. Schrock Road Westerville, Ohio.
Condolences
Denise Douglas - Jan 13, 2018
I want to send to you my deepest sympathy for your great loss. There are few experiences more difficult than the loss of a loved one. We can find comfort in knowing death was not God's prupose for mankind and his purpose has not changed. God's word says 'death is an enemy' and promises it will be 'brought to nothing'. (1Corinthians 15:26) Further "He will swallow up death forever, and the Soveriegn Lord Jehovah will wipe away the tears from all faces." So we have the guarantee that that the pain and suffering we experience today is only temporary. (Revelation 21:4) Jesus spoke of the coming resurrection of those we have lost to the enemy death at John 5:28, 29. Imagine being able to see those we have lost in death, once again, here on earth. I so do hope this brings you some sort of comfort in these days and weeks to come.
carla rengert - Jan 13, 2018
Such heartbreaking news, I watched him grow, I really wish I had words to comfort the family because I know how hard it must be. The loss of one so young with such a great personality. Please know you are in My thoughts and in my prayers and have been for most of your lives.