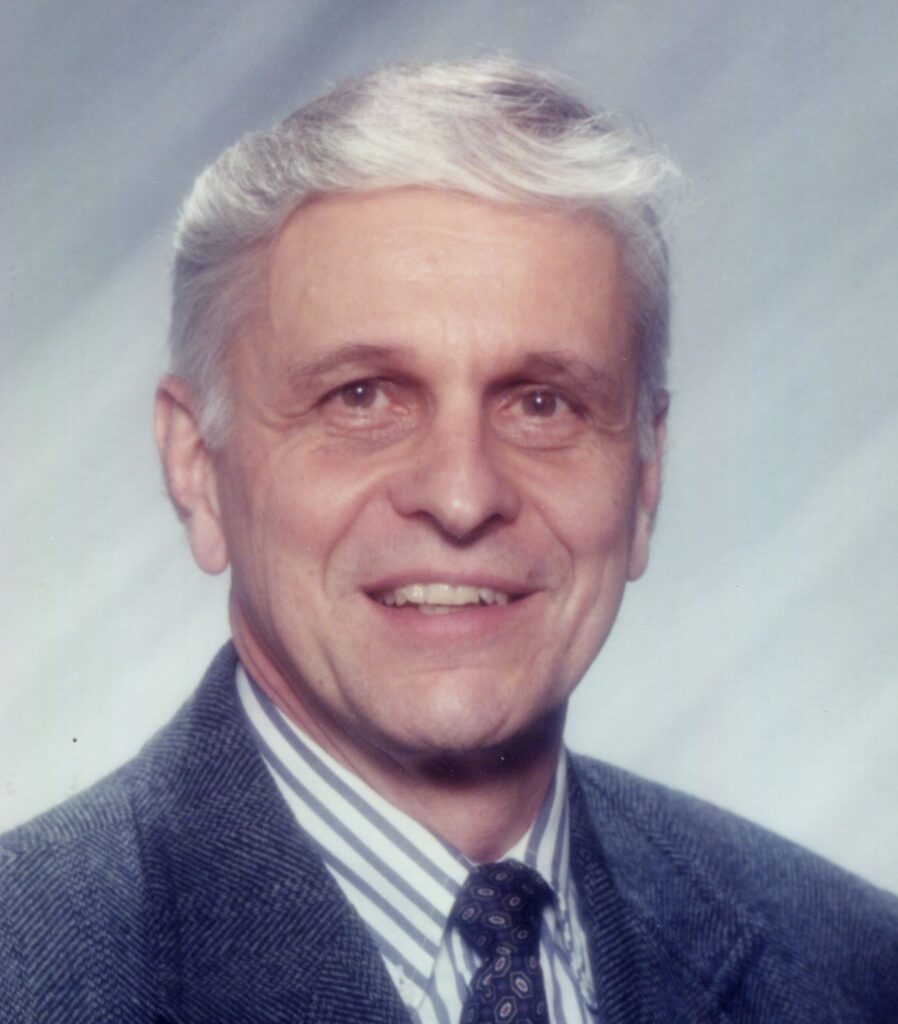 February 15, 1941 - May 5, 2023
Bruce Hull, 82 of Westerville, OH passed away on May 5, 2023, after a short struggle with Parkinson's. Bruce was born on February 15, 1941, to A. Lansing and Esther Hull in Albany, NY. After graduating from Ravena-Coeymans High School, he attended Cornell University and received his veterinary degree in 1965. He later achieved his masters degree from Iowa State University in 1971.

Bruce loved his time on Ralph and Joyce Hull's dairy farm, which ignited his passion for animals and led to his successful veterinary career. He was very involved with Boy Scouts and achieved the Eagle rank. His hard work ethic was developed in the family business of the Ravena Diner. Helping at Nancy's Restaurant in Columbus brought back fond memories of his childhood experience at the Diner. Patrons referred to him as Doc.

He was briefly employed in private practice before being called into the Army where he served at Fort Hood, TX as.a food safely inspector. After completing his service, he moved to Iowa where he started his teaching career at Iowa State University. He moved to The Ohio State University and continued to teach and mentor countless students where he retired as a Professor Emeritus in 2004. Bruce wrote over 70 articles and co-authored a textbook where his revolutionary technique on displaced abomasum repair is still practiced today. He was a professor and Department Head of the Veterinary Clinical Sciences Food Animal Medicine and Surgery. For many years he was an advisor for the Omega Tau Sigma veterinary fraternity.,He was recognized as an OSU Honorary Distinguished Alumnus in 2022. OSU students awarded him with the Outstanding Teacher Award (classes of 1977 and 1978). He also received the National Gamma Award, Clinical Teaching Awards, and more. He received multiple awards from the American Assoc. of Bovine Practitioners including the Alpharma Award of Excellence and Intervet/Schering-Plough Animal Health Mentor of the Year. He served on the Board of Regents and was the President of the American College of Veterinary Surgeons (ACVS). He later received the Legends Award from ACVS for his dedication and contributions to veterinary surgery.

Bruce met his first wife Karen Bruner while studying at Cornell; they married in 1965 and had two daughters, Kristina and Kimberly. He later married fellow veterinarian Margaret Mitchell of Saskatchewan, Canada in 2001. He was a devoted father and grandfather. He attended countless sporting events, music concerts, and plays. He was a teacher throughout his life and taught his children and grandchildren about household repairs, woodworking, and animal care. Bruce showed his love of family and community by plowing snow, making bread and meals, and including out of town students in holidays meals.

Veterinary opportunities allowed him to travel all over the world he had speaking engagements in South Africa, Brazil, Canada, Australia, and Europe. He enjoyed taking his family to Outer Banks, NC and loved walking on the beach. He also enjoyed traveling to Boundary Waters, MN and visiting family and former students. Bruce and Margaret enjoyed their travels to many locations including Canada, Australia, New Zealand, Brazil, Uruguay, Argentina, Italy, UK, France, Galapagos Islands, South Africa, and Alaska.

He was preceded in death by his parents Lansing and Esther Hull, brother Curtis, and first wife Karen. He is survived by wife, Margaret Mitchell Hull; sister, Priscilla Names of Tucson, AZ; daughters, Kristina (John) Gorg of Warrenton, VA, Kimberly (Josh) Lehman of Lexington, OH; grandchildren, Bridgette, Norah, Ryan, Kate, Brendan, Sebastian, Naomi.

Many thanks to the Promedica/Heartland Hospice and the staff of The Gables of Westerville for their kind and compassionate care.

Visitation will be held at Moreland Funeral Home, 55 E . Schrock Road, Westerville, OH 43081 on Sunday, May 21, 2023 from 2-4 p.m. followed by a Celebration of Life Service at 4 p.m.

In lieu of flowers, memorials are suggested to the Bruce L Hull Food Animal Student Fund # 643334, Office of Advancement, Veterinary Medicine Academic Building, 1900 Coffey Road, Columbus, OH 43210.
Condolences
Margot Eness - May 25, 2023
Bruce Hull also impacted Iowa State after he moved on to Purdue. While at Iowa State he became a colleague and great friend of Dr Larry Kramer , ISU '63. When Larry left a bequest to Iowa State to find the Kramer-Marks Equine Annual Lecture, Bruce was Larry's spokesman in setting up the lecture with the administration. Heartfelt sympathy to Margaret and the girls for the loss of their husband and Dad. From Margot and (Paul)
Dr Denny Woodruff - May 25, 2023
Bruce was a wonderful teacher for a young farm boy wanting to learn about large animal veterinary medicine! Loved his dry sense of humor and his ability to encourage all he encountered. Rest in Peace my friend and mentor!
Andy Niehaus - May 22, 2023
Thanks for all you have given me. A debt that I could never repay.
Greg Queen, D.V.M. - May 18, 2023
As a member of the OSU class of 1978, I mourn the passing of my mentor Dr. Hull, but cherish the fond memories and his many examples of professional counseling, personal integrity, and dry humor. Up until our subsequent retirements, we sought each other at conventions and other speaking opportunities to catch up on the state of our profession and the world. I had the good fortune to rely on his recommendations for my career redirections and guidance on veterinary issues that I encountered over the years. To his family, thank you for sharing him with a profession that needs more cherished and forthright leaders like Bruce. He will be missed and remembered for his contributions to the profession and to his friends.
John Baker, DVM, PhD - May 17, 2023
Rest in Peace Old Friend, John
Julie Byron - May 17, 2023
Dr. Hull was a major factor of why I decided to stay in academic medicine. He encouraged me to embrace teaching and mentoring. I am sure his impact on many veterinarians, even ones outside of his specialty, reaches widely.
Gordon Atkins - May 17, 2023
It is with great sadness that I learned this morning of the passing of Dr. Bruce Hull - a wonderful mentor to so many Bovine Practitioners and a true friend. Bruce's passion for bovine surgery was an inspiration for me as a veterinary student and young practitioner and I had the privilege to meet him in person at the 1988 AABP in Calgary. His wife Margaret is a classmate of mine from WCVM and the AABP and WCABP became a regular meeting place to enjoy friendship with Margaret and Bruce. JoAnne and I send our sincere condolences to Margaret at this difficult time and we trust she will find strength from the great impact Bruce has had on the bovine veterinary profession. Gordon Atkins
Polly Modransky, D.V.M. - May 15, 2023
Dr. Hull was truly an inspiration to me. He was one of my most favorite teachers; and a dear friend and valued colleague. He will be missed. My heartfelt condolences to his family.
K. T. Mao - May 15, 2023
With a deep sense of personal loss, I wish to send my condolences to Margaret and Bruce's family. I have known Bruce nearly 65 years. We were in the same freshman dorm at Cornell, living next door to each other, and then joined the same fraternity, Sigma Pi at Cornell. Bruce fits the classic description of "a scholar & gentleman". And his life long accomplishments corroborated that description. He came to everyone of our Class of 1963 50th & 55th reunions in 2013 and 2018. He will be sorely missed at our 60th reunion next month. KT In Maine
Fred Gingrich - May 12, 2023
I have so many wonderful memories being taught by Dr. Hull. He is one of the reasons I became a cattle veterinarian. A huge influence on the lives of many veterinarians, farmers and cows.
Trisha Venzke - May 10, 2023
I was dreading my large animal rotation as I was a small animal focused veterinary student. But Dr. Hull changed my whole outlook when I was on his rotation. He was passionate, animated, wonderful and entertaining teacher. I remember him fondly and the morning large animal breakfasts. My rotation was one I will never forget. Dr. Hull was a true inspiration to our profession. He will be missed dearly. DVM 2003
Tiffanie - May 10, 2023
I will always cherish the memories I have of Dr.Hull helping this city girl in her large animal rotation in vet school. He was so supportive but he was much more than a vet. He was a kind and loving human. He used to ask me how my relationship with my out-of-state boyfriend was going after I went to visit him….and then tell me, "why buy the cow if you can get the milk for free." We have now been married 20 years! Thanks Dr. Hull! Prayers for his family while experiencing this loss of such a fine man.
N Kent Ames - May 10, 2023
From one o'l cow doc to another, Rest in peace my esteemed colleague and friend
Sarah - May 10, 2023
I was a vet student 25 years ago. I never practiced large animal medicine but I learned so much from Dr Hull, mainly his to work hard, have fun, and how to treat other people. Deepest condolences to your family for this tremendous loss.
Virginia DeChant - May 10, 2023
Dr. Hull made a huge impact on me during my time at OSU. I now teach veterinary students, and there are times when I hear his words coming out of my mouth. His passing must leave a big hole in your family. I hope the clouds of grief part enough to let the light he brought into our lives shine through.
Lisa Fox - May 9, 2023
Bruce was such a dear & wonderful friend. I will never forget his attention to detail. He always noticed when someone needed help. Although he was a cow man he fell in love with our Friesian, whom I always refer to as "Bruce's horse". We love you Bruce & will always remember you with great fondness. Lisa, Rick, & Jack
Catherine - May 9, 2023
Dr. Hull was an amazing teacher, mentor, and one hell of a square dance partner. I will remember him with the fondest memories of my large animal rotation in veterinary school, as well as the countless times we ate at Nancy's diner. He will truly be missed by students, peers, and his community, as well as family and friends. Rest in peace Doc.
Rhonda - May 9, 2023
What an amazing professor. I remember what he taught me 20+ years later. He made a huge impact on the world of veterinary medicine.