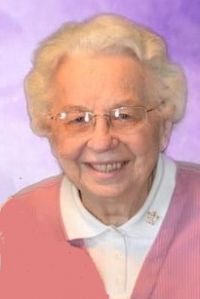 May 27, 1928 - July 13, 2014
Visitation
Wednesday, July 16, 2014 from 2-4 and 6-8 p.m., Moreland Funeral Home
Service
Thursday, July 17, 2014 10:30 a.m., St. Paul the Apostle Catholic Church
CENESKIE
Blanche E. Ceneskie, age 86, of Westerville, OH, passed away peacefully at home on July 13th. She was born in 1928 in Newburgh, NY to the late John V. Gilnick and Margaret Witzenbacker Gilnick. She was preceded in death by her beloved husband of 50 years, Joseph C. Ceneskie and her son, Col. Craig T. Ceneskie. She is survived by sons, Joe (Jill) Ceneskie, Wayne (Michelle) Ceneskie, David (Augusta) Ceneskie and daughter, Gail Ceneskie; twelve grandchildren and 11 great-grandchildren, all of whom were the light of her life. Her family was her biggest source of pride and joy. She thrived on every visit from her family and friends. She was an active member of St. Paul the Apostle Catholic Church in Westerville and of the Westerville Senior Center where she made many close lifelong friendships. Friends may call at MORELAND FUNERAL HOME, 55 E. Schrock Road, Westerville, OH Wednesday 2-4 and 6-8 p.m.. A funeral mass will be held at St. Paul the Apostle Catholic Church, 313 N. State Street, Westerville, Thursday at 10:30 a.m., Rev. Fr. David E. Gwinner, celebrant. She will be laid to rest after cremation at a private family service at Resurrection Catholic Cemetery, Lewis Center, OH.
Condolences
elin warwick - Jul 15, 2014
Blanche was a cherished lifelong friend to my mom Pauline. Their enduring friendship through out the years supported them through the best and worst of times. Blanche will be sorely missed by my Mom and all those who knew her.
Ron and Judy Fowler - Jul 15, 2014
With our deepest sympathy. Your family are in our thoughts and prayers. May God be with you all.