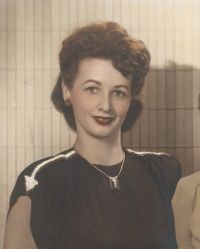 September 10, 1922 - May 1, 2012
Visition
Sunday, May 6th from 2-3 p.m.
Service
Sunday, May 6th at 3:00 p.m.
GRAUL
Betty Ann Graul, age 89, of Westerville, formerly of Columbus, passed away May 1, 2012 at Northview Senior Living Center. Betty was one of many women in Columbus who actively supported the WWII war effort by working at Curtiss-Wright. She was a mother and homemaker. In her later years she enjoyed being an active member of the Westerville Senior Center where she earned the reputation as the Barney Oldfield of their Malibu Grand Prix racing group. She was preceded in death by her parents, Dorothy and Albert Manley; brothers, John Manley, James Manley and Donald Manley. She is survived by her sister, Rose Caldwell and brother, Jerry Manley; her children, Linda (Dick) Coppler and Dennis (Mindy) Graul; grandchildren, Lauren Heck, Ryan (Melissa) Heck, Mark Heck, Matthew Graul, Meghan Graul, Mackenzie Graul; great-grandchildren, Gavin and Riley; and many nieces and nephews. Our mother, grandmother, great-grandmother and sister will be greatly missed. Family will recieve friends from 2-3 p.m. Sunday, May 6th at MORELAND FUNERAL HOME 55 East Schrock Road, Westerville, where a service will follow at 3:00 p.m.. Pastor David Hogg officiating.
Condolences
Louie Kuntupis - May 4, 2012
Dennis,
I'm sorry to hear about your mother. Take care pal.