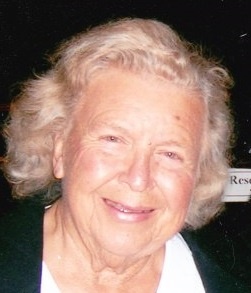 September 17, 1926 - January 10, 2015
Visitation
None
Service
None
Burial
Private Interment
AGLER
Betty A. Agler went to be with the Lord January 10, 2015. Born September 17, 1926 to parents Ralph & Alyce Duffy. Betty lived a long and full life. Betty was a graduate of Mifflin High School where she met her future husband Robert "Moe" Agler. Betty enjoyed many trips throughout her life including an African Safari, an Alaskan cruise and Hawaii. She volunteered leading the Columbus branch, Ohio Federation of Womens Clubs as well as Childrens Hospital. Betty was named Worthy Matron of Linden Eastern Star, a member of the womens shrine drill team and worked with Miss Wheelchair America for Ohio, for over 30 years and until her passing worked for the Columbus Colony. She was a member of Linden Baptist Church. She will be sadly missed by her family, daughters Beth (Mike) Sedlock and Bev (Mark) Martin. grandsons, Scott (Kari) Pinoni and Chris (Angie) Sedlock. great grandchildren; Sarah (Chris) Pinoni Henderek, Chris DeBoer, Aleesha DeBoer, Makayla Pinoni, Felicia and Katerlyn Paschal, Haley Sedlock, Stephanie and son Noah Martin and soon to be great granddaughter Aubree Henderek. Betty has donated her body to OSU Medical Research. Donations in her memory can be made to: Harlequin Haven Great Dane Rescue or to your local Baptist Church. Arrangements by MORELAND FUNERAL HOME, Westerville, Ohio.
Condolences
Tracy Leffler - Jan 15, 2015
My condolences to both Bev and Beth and to those of the Agler family in your time of loss. My thoughts and prayers to you.
Bonnie Ervin - Jan 14, 2015
Beth and family, so sorry to hear about your Mom. I have many fond memories of your Mom throughout the years. I especially remember the Dairy Queen from elementary through high school. You had a very special Mom and I know she will be missed greatly. My thoughts and prayers are with you. Bonnie Ervin
Dennis and Billi Jo Koch - Jan 12, 2015
Betty was a tough little lady who never stopped working on helping others. She was outgoing and loved her family dearly. She would go to Scott's baseball games but could never look when he would hit when at bat, she would cover her eyes. God bless the family she has left behind with thousands of precious memories of their times with her.
Kari Pinoni - Jan 12, 2015
My deepest condolences to all the family! Grandma Betty will be truly missed!
kpinoni