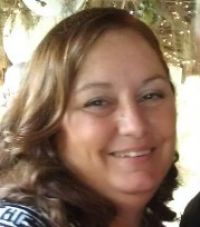 February 22, 1957 - October 13, 2013
Visitation
Thursday, Oct. 17th from 5-8 p.m., Moreland Funeral Home, Sat. Wallace Funeral Home
Service
Saturday, Oct. 19th at 1 p.m. Wallace Funeral Home in Barboursville, WV
HAUN
Becky A. Haun, age 56, of Westerville, went to be with the Lord on October 13, 2013. Employed by Century Link, formerly Qwest. She was a proud member the AMA, the Harley Owners Group and she was the Assistant District Director of Motor Maids, Inc., Ohio and West Virginia chapter. She is survived by Gary, her husband of 33 years; children, Natalie (Jarrett) Laine of Delaware and Trey Haun of Westerville; grandchildren, Christian Haun and Windham Laine; brother, Rick (Tish) Black of Barboursville, WV; many nieces, nephews, great nieces, great nephews, family and friends. She was preceded in death by her parents, Mervin and Lois Black, sister, Kathy Billups and brother, Curtis Black. Friends may call at the MORELAND FUNERAL HOME, 55 E. Schrock Road, Westerville, Thursday 5-8 p.m.. Additional visitation will be held at Wallace Funeral Home, 1159 Central Avenue, Barboursville, WV on Saturday from 11 a.m-1 p.m. followed by a service at 1 p.m., Aaron Zink, officiating. Interment Bowen Cemetery in Huntington, WV.
Condolences
Polly Boone - Dec 27, 2013
Sister Motor Maid ride with the wind. Polly Boone NcSc Fl
Roswitha (Rose) Clark - Oct 29, 2013
I never had the pleasure of meeting or riding with Becky. I am sure we will meet one day and ride together on the other side.
So many of us lose loved ones and we always feel the need to ask why. I would like to say that the Lord knows why and our faith in him carries the answers we all seek in order to calm our hearts and still the grief we feel if we only seek it.
We can find it in the many condolences from others and in the memories of our loved ones we carry in our hearts.
Prayers and thoughts will be with you all always.
Sincerely,
Rose Clark of Louisburg, NC
Denise Pelrine - Oct 22, 2013
On behalf of the Atlantic Canada Motor Maids, we were so very saddened to hear of Becky's passing. Please know you are in our thoughts and prayers. She has touched many lives and will be kept in our hearts always.
Virginia Lackey - Oct 22, 2013
My prayers and thoughts go out to the family. I knew Becky through the Motor Maids and she was always smiling and helping others to smile.
Virginia – NC Motor Maid
Nancy - Oct 19, 2013
God Bless all of you in this very difficult time. Our hearts are very heavy in the loss of your Mom,wife,and a true friend too many who knew her. Please know you are all in our thoughts and prayers.
Barbara Kempf - Oct 18, 2013
Please accept my condolences from a Motor Maid of VA. I wish that I had gotten to know her. God bless you and your family.
MaryAnn Gibson/ Gibson Family - Oct 18, 2013
Our very deepest sympathy in your loss.
BJ Johnston - Oct 17, 2013
My thoughts and prayers are with you during this difficult time.
Arizona Motor Maid
Barbara - Oct 17, 2013
Condolences to family and friends from Motor Maids in Idaho (Barbara, Fleda, Trina, Cindy, Gin)
SE - Oct 17, 2013
So sorry for your loss! God, in His merciful grace, promises in John 14:1-4 that we will see our loved ones again. You and your family are in our thoughts and prayers.
Diane Hawker - Oct 17, 2013
So sorry for your loss, keeping you in my prayers.
Diane Motor Maid, Maryland
Steve Bemiller - Oct 17, 2013
Gary I know I just met Becky this summer but I could tell there was something special between the two of you. I am so sorry for your loss. I'm glad you got to spend your time together this summer. Thinking of you! My prayers are with you and your family. Steve
Deborah Taylor - Oct 17, 2013
My condolences to Gary and family for your great loss. Her smile will forever shine in our hearts… Love and Respect – Deborah "Nuggett" Taylor an Alabama Motor Maid
Mary P. - Oct 17, 2013
Deepest condolences for your loss. Wyoming Motor Maid.
SusanGibson - Oct 17, 2013
My prayers and thoughts go out to your family. I am so sorry for this terrible loss. Susan, Georgia Motor Maid.
Sandy - Oct 17, 2013
Prayers and condolences from Bend, Oregon Motor Maids and fellow Motorcycle riders. We ride for the love of it. May she ride over her Motor Maids shoulders. A smile memorilized in many minds and hearts. May God give you strength in this time.
Sandy
Ellen Taylor - Oct 16, 2013
Gary and family, my name is Ellen Taylor co DD to VA/DC district of the Motor Maids, the Virginia Motor Maids are so sadden over your loss. Please know you and your family are in our prayers and thoughts during this difficult time. We have lost a Motor Maid sister, and we all will miss her so much. She was loved by many Motor Maids and will never be forgotten!!!
Mona White - Oct 16, 2013
My deepest sympathy goes out to Becky's family and to all her friends and sister Motor Maids It's so tragic to lose one of our girls! Mona – Wyoming Motor Maid
Donna Doyon - Oct 16, 2013
My deepest sympathies to Becky's family.
Donna Doyon
Motor Maid
Minot Maine
Karen Turner - Oct 16, 2013
Gary my sincere condolences to you and the entire Haun Family. No words can express the loss of a spouse, but please know that many thoughts and prayers surround you and your family at this time. Bless you and find comfort in knowing that Becky will live on with you, in spirit, forever.
Dora D - Oct 16, 2013
It is a sad day. My heart is out to your family. A wonderful Motor Maid and friend will always be remembered and loved. Ride in peace my friend.
Diane Dixon - Oct 16, 2013
Gary, please know that you and your family are in the hearts and prayers of so many people who care for you. Bless you.
SC Motor Maid
Brenda Burkey - Oct 16, 2013
Gary and family, my heart is broken over this tragic loss. It was an honor and blessing to know Becky and have her on my team at CenturyLink. She was an exceptional person and employee! Her contagious zest for life, genuine heart, spunky sense of humor, willingness to help anyone in need, kindness and love for others positively impacted many of us and brightened many of our days here at work. This loss has created a gaping hole in our hearts and in our workplace, and she is already deeply missed. May God sustain and comfort all of us and give us strength to journey through this difficult situation.
Lynn Cox - Oct 16, 2013
My deepest sympathies to the family. Take comfort in the messages from all her friends.
Linda Smegal - Oct 16, 2013
Our deepest sympathy to your family on your great loss. A Pennsylvania Motor Maid
Cindy RangerLady Gillman - Oct 16, 2013
I'm so sorry for your loss. Blessings and peace to Becky and all her family at this time and going forward. An Arizona Motor Maid.
Sandy - Oct 16, 2013
I would like to express my deepest sympathy for the loss of such a beautiful woman. Her family will be in our thoughts and prayers. I only talked to her on Facebook as I have only been a Motor Maid for one year. She was always a great inspiration and joy to talk to. She will be sadly missed by many.
Eastern Canadian Motor Maid
Julie Livingood - Oct 16, 2013
Every time I was with Becky, she was warm and loving. She is the kind of person that you feel like you have always been close to. I miss you so much
already. Ride on in heaven where we will ride together one day. I love you Becky. To the family, you are in my heart and I am praying peace for you, the peace that can only come from our Father in heaven. Motor Maid from Tennessee , Sparkles.
Sonja - Oct 16, 2013
May you be comforted by the many caring thoughts of others ….May you be strengthened by the many precious memories of your loved one.
Sonja Smith, Motor Maids, Eastern Canada
Miram Hennigan - Oct 16, 2013
Becky was one of the kindest souls I ever had the pleasure to know. She always lit up the space around her just with her smile and presence. She will be missed…Louisiana MM
Doris Love - Oct 16, 2013
Our thoughts and prayers are with you during your time of loss. Becky will be greatly missed by all. An Arkansas Motor Maid.
Jamie Fota - Oct 16, 2013
Becky was always a joy to be with at Motor Maid events. She will be sorely missed by us all. I will be holding Gary and the rest of the family in my prayers.
Jamie
Schelley Francis - Oct 16, 2013
I was only a Motor Maid Facebook Friend with Becky but her sweetness would shine through the screen….her love of her family and friends were evident with her post and family pictures. Words can not express the feelings that so many of us have at this time. Our prayers are with you all. I know Becky would not want us all to grieve for her loss, but to rejoice in her life and what she was able to accomplish in such a short time on this earth. So we must try to continue to live life to the fullest as she did…so that we honor her and all those that have gone on before us. Deepest sympathy Schelley Brown Francis a Louisiana Motor Maid
Leah Ware - Oct 16, 2013
I am so fortunate to have known Becky for the short period of time that I have been a Motor Maid. I had the privilege of spending time with her when we did the Geneva Grape Jamboree and the convention in Spartanburg, SC. I wish that I had more time to get to know her and spend time riding bikes together. She was a wonderful person to talk to and I will miss her personality and warmth. RIP Becky! 🙁
Josie Steipp - Oct 16, 2013
So sorry to hear of your loss. I am a Motor Maid from Alabama and I lost my fiance in January to a motorcycle accident. My prayers are with your entire family.
Diane hodges, ADD North Texas MM - Oct 15, 2013
Aim sorry for your loss. I did not personally know Beckybut she was a motor maid sister. I pray you have comforts knowing she will be missed by many of her motor maid sisters. Take strength in knowing she is cradled in the arms of angels. Riding across heaven on her motorcycle.
Marcia Gallas - Oct 15, 2013
I was so very shocked and saddened to learn of Becky's untimely passing. I wish I'd had a chance to know her better. I do have fond memories of "shooting the breeze" with Becky at one of our Motor Maids events. She was so easy to talk to, it was like we'd known each other for a long time. Rest in peace, Becky. My thoughts and prayers to all who knew and loved you.
Cathy Decker - Oct 15, 2013
I am sorry to hear of your loss.
I also have a couple of pictures from the recent Grape Festival in Ohio and can email or text a couple pictures of Becky enjoying herself with Motor Maids.
My email is cathy621@verizon.net
Deb "Tinkle" Schuitema - Oct 15, 2013
Becky will always be in my heart! She was a kind soul…one of a kind. I'm very blessed to have known Becky and we will ride again in a Parade in Heaven!! My Love and Prayers for all of Becky's Family and Friends!! Godspeed