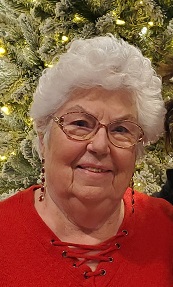 April 2, 1937 - May 23, 2022
Visition
Thursday, May 26th from 2-4 and 6-8 p.m.at Moreland Funeral Home
Service
Friday, May 27th 12 noon at St. John Neumann Catholic Church
Burial
Pioneer Cemetery
Barbara Frances Leps Tucci, age 85, resident of Westerville, Ohio passed away Monday May 23, 2022 at the Kobacker Hospice House due to complications with Leukemia.

Born on April 2, 1937 in Philadelphia, Pennsylvania. Preceded in death her father Charles Leps and mother Frances A. Focht Leps, nephew, Yves Demoulin, mother-in-law and father-in-law, Mary and James Tucci.

Barbara has three siblings, brother, Charles Leps (Mary Beth) of New Jersey (both deceased), two sisters, JoAnne (Joseph) Strada of Virginia and Gerry (Yves) Demoulin of Columbus, Ohio.

Married to Donald J. Tucci, retired Navy Commander on August 27, 1982 in Westerville, Ohio.

Went to John W. Hallahan Catholic Girls High School, Philadelphia, Pennsylvania and is still has longtime friendships particularly with girlfriend Frannie Greene.

Places of residence include many years in Scranton and Butler Pennsylvania; Houston, Texas, Pensacola Beach, Florida and Westerville, Ohio.

Barbara dedicated her life to helping others. She would open her home to host migrant workers children, burn victims and also devoted her time to the prison ministry in order to teach and educate others about the Word of God. She had a strong passion for serving our military veterans and taking them to lunch. She served in various roles as a volunteer at Saint John Neumann Church; specifically as Extraordinary Minister, visited the sick and prepared meals for those in need, lead and participated in many bible studies and retreats. She also attended mass and Adoration frequently. Barbara was an amazing wife, mother, sister, aunt, grandmother and great grandmother. She always lead by example and was a woman in charge of everything pertaining to her family and friends. She had a genuine love of eating and preparing food. She loved the taste of a good "gas station hot dog", donuts and ice cream and any type of candy, especially dark chocolate.

The Beach and sand and surf were her "happy place", not to mention her love of dancing with her husband or anyone willing to partake!

Monthly family euchre night was an event everyone looked forward to. Barbara enjoyed playing any type of board game & cards. Marble Chase and canasta were among her favorite games. Another favorite activity was participating in weekly water aerobics.

Survived by her husband,Donald J. Tucci; 6 Children, Jane (Nathan) Norris, Barbara Lee (John) Peck, Jacqueline (Gregg) Jordan, Eileen (Jim) Deskins, Francie (Bob) Grden, Dominick (DeeDee) Tucci.
18 grandchildren, Jennifer Borchers, Andrew (Jessica) Peck, Kyle (Kerinan) Jordan, Logan (fiancé Kate) Jordan, Anthony Norris, Xavier Norris, Janelle (Eric) Williamson, Maria (Nick) Moonis, Ben Airhart , Rachel (Matt) Landig, Holly (Tyler) Camerucci, Dominic Peck, David Grden, Brandon Tucci, Adam Grden, Kodiak Tucci, Gina Grden, Elizabeth Tucci, Antonio Tucci. 7 great-grandchildren with 1 on the way, Joseph Borchers, Isabelle Borchers, Julia Borchers, Cooper Norris, Aubrey Jordan, Avery Jordan, Jacob Peck and baby Moonis on the way.

Friends may call at the Moreland Funeral Home, 55 E. Schrock Road, Westerville, Thursday 2-4 and 6-8 p.m. Mass of Christian Burial will be held at St. John Neumann Catholic Church, 9633 E. State Route 37, Sunbury, OH 43074 Friday at 12 noon, Rev. Fr. Daniel Dury, celebrant. Private interment Pioneer Cemetery, Westerville, OH.

Pallbearers, Nathan Norris, John Peck, Gregg Jordan, Jim Deskins, Bob Grden and Dominick Tucci.

Memorial donations may be made to Salvation Army, Wounded Warriors or St. Jude Chilldrens Research Hospital.

Mom's life motto: "Jesus I Trust In You"
Condolences
Myron I Perry - May 26, 2022
My most sincere condolences. Barb was a great gal, neighbor and friend. May she rest in peace.
Barbara Burns - May 25, 2022
Mr Tucci and your family: condolences on the loss of your wife/mother. I did not know that Barbara had been so ill. Barbara was always so friendly to me. I enjoyed our porch/sidewalk conversations. I will miss those times. From your Genoa Grove neighbor Barbara