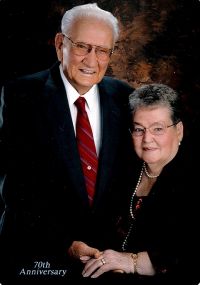 August 5, 1920 - September 14, 2014
Visitation
Wednesday, September 17, 2014 from 5-8 p.m.
Service
Thursday, September 18, 2014 at 2 p.m.
DeBOARD
Arthur DeBoard, 94, of Gatlinburg, TN, formerly of Sunbury, Ohio went home to be with Lord September 14, 2014. Born in 1920 in Tazewell, Virginia to John & Mittie DeBoard. He was a farmer in Sunbury, Ohio; drove truck for Matlack Trucking and retired from PPG in Delaware, Ohio. Avid bowler in Mt. Vernon, Ohio and Gatlinburg, TN. He was a member of Victory Baptist Church in Sevierville, TN. Preceded in death by parents, John & Mittie DeBoard, sisters; Treble, Minnie Bird, brothers; Marvin and Walter. Survived by Beulah, wife of 74 years; son, Darwin DeBoard of Kaufman,Texas, daughters; Barbara West of Gatlinburg, TN and Cookie Stafford of Tavares, FLA.sisters; Orie McGinnis, Rachel Lawson, Helen Meier all of Mt. Vernon, OH' Laura White of Centerburg and Annie Kirby of Mississippi. brothers; Glenn and Fitz of Mt. Vernon, OH. many, many grandchildren, great grandchildren, great great grandchildren, nieces and nephews. Friends may call 5-8 p.m. Wednesday at the JOHNSON-MELICK-MORELAND FUNERAL HOME 49 West Church Street Centerburg, OH where servicewilll be held 2:00 p.m. Thursday September 18, 2014. Pastor Mark Tuggle officiating. Interment Eastview Cemetery.
Condolences
SCH - Sep 18, 2014
Although I did not know your loved one personally, I am truly sorry for your loss. May you find comfort in Gods promise found at Revelation 21:4- "And He will wipe out every tear from their eyes and death will be no more…"
Molly Horn McHale - Sep 16, 2014
Molly Horn McHale sends this memory.
Tell them that I remember running the soda machine at the pig roast and Art wanting a "suicide" – all the sodas mixed together. I had heard of other kids doing this but hadn't ever tried it myself. I thought it was funny that he wanted it!! He was a really sweet man!! I didn't remember that Laurie was his sister. Tell her hi for me!
I can't imagine how many lives this good guy influenced. Enid Horn
Ruby (Comstock) Nettelhorst - Sep 16, 2014
May you find comfort in
knowing that others care
And share your sorrow.
With Deepest Sympathy
Ruby (Comstock) Nettelhorst
Enid Horn - Sep 15, 2014
So sorry to read of your loss. This good guy will be missed alot, but always fondly remembered. My thoughts and prayers for all of you.