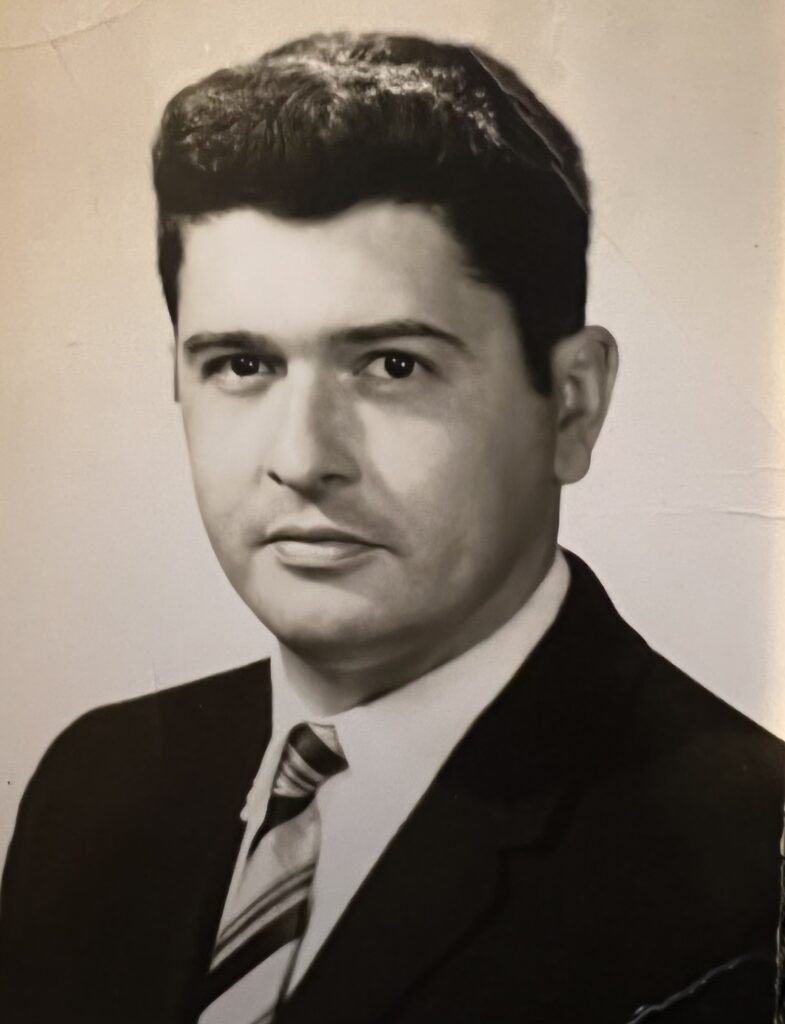 September 23, 1933 - March 3, 2023
Visitation
Sunday, March 12th from 2-4 p.m. at Moreland Funeral Home
On March 3, 2023 my father, Robert E. Bancroft, passed away peacefully in his home. Beloved Father and Grandfather, retired Dentist and Marine, Robert will be remembered for his generosity, compassion, and wit. Always a gentleman, he put others before himself in his work and personal life. Robert is survived by his daughter, Ann Bancroft (David Johnson); granddaughter, Addison Vaughn Johnson, and many life-long, dear friends. He is preceded in death by his parents, Mary (Dugan) Bancroft and Thomas
(T.V.) Vaughn Bancroft, and many beloved dogs.

Robert grew up in Westerville and graduated from Westerville High School. After graduation, he attended Virginia Military Institute graduating in 1955. He spent his touron the U.S.S.Missouri. He attended the University of Utah. He graduated from The Ohio State University Dental School and after graduation he stayed on to teach in the Dental School. He owned a successful dental practice in Westerville for over 30 years. His patients remember him as professional, friendly, and gentle. The dedication of his patients was evidenced by the generations of families that entrusted him with their dental care. He was active in the Westerville Rotary Club, the Otterbein "O" Club, and a session member for many years at Central College Presbyterian Church.

While in school in Utah, Robert was in a jazz band and played the clarinet. He loved to travel and go camping with his friends. He loved his buddies and he kept close ties with so many of them. He remained in touch with all of his VMI roommates and continued to support the institute. He loved the West, back packing in New Mexico, Colorado, Utah, Wyoming, California and Alaska. He loved the gurgling mountain streams, the Aspen, Ponderosa, Spruce, and Fir trees. When backpacking, his buddies recall that he never liked the crazy elevation gains and I am told he "bitched all the way
up."

An avid gun and knife collector, Robert loved to do leather and woodwork, making knife sheaths and customizing handles for axes and hatchets. He was a MacGyver and easily fashioned solutions using everyday, handy items. Robert enjoyed his motorcycle in the 80's and sported a mean mustache with full leather gear. He was always sharply dressed regardless of the occasion.

Anyone that knew Robert knows how much he loved his dogs. He was proud to rescue three Rottweilers later in life. He loved their loyal and loving nature. His Veterinarian often had to remind him that they did not need to share every meal. He enjoyed taking them on walks, and for rides in the car. He often did not leave home without his loyal companion.

Grandpa was the best babysitter, especially known for his participation when playing Barbies. He was also known for nature walks, making biscuits, watching and feeding the squirrels. He received special recognition for his contribution to teaching colorful language while driving his granddaughter home from school.

Above all else, Robert was the best Father. He was selfless, protective, generous, supportive and present. Robert participated in horseback riding lessons, only being nipped in the butt by a horse a few times. He frequented many horse shows and became an excellent groom. He enjoyed following the Otterbein Intercollegiate Horse Team, and taking his daughter to the Otterbein Basketball games.

Calling hours will be held at Moreland Funeral Home, 55 E. Schrock Road, Westerville, OH 43081 on Sunday, March 12th from 2-4 pm followed by a service at 4 pm. Donations can be made to Virginia Military Institute, or the Philmont Scout Ranch (Cimarron, NM), or your favorite dog rescue.
Condolences
Cindy Straub - Mar 15, 2023
Ann, I am very sorry for you loss! You and your family are in my thoughts! Love and prayers! Cindy
NANCY MASI - Mar 12, 2023
As a college student, Bob and a buddy did janitor work in the Salt Lake City and County building each morning before class...typical of his willingness to do a proper job in order to reach his goals. He was a man for all seasons and will be remembered as so.
Reynolds family - Mar 11, 2023
Our family was blessed to be patients and friends of Dr. Bancroft. He took ever so good care of us, and was always up for some talk about Otterbein Basketball and equestrian activities. Godspeed, good man.
Gayle Henthorne - Mar 8, 2023
Robert Bancroft was my Scout Master for many years as we met at the Annehurst Elementary School in Westerville. I remember quite a few camping trips with him as our leader. He was my family dentist for a lot of years. Rest in peace Doc, your work is done.
Lucy Cryan - Mar 5, 2023
What a sad day to have lost such a wonderful man. I have so many fond memories of Dr. Bancroft as an amazing father and expert dentist. I always enjoyed working with him at Otterbein's stables many years ago. Our love goes out to Ann and the rest of her family. May he rest in peace and be reunited with all of his four legged friends in heaven.
Bill McCleery - Mar 5, 2023
I first met Doc on a backpacking trip in Colorado. We hit it off right away. Both Buckeyes, only children, and love for the outdoors. He was ornery, compassionate, and giving in so many ways. We were confidantes, sharing our various trials and tribulations and supporting each other. I'm going to miss him. May his soul rest in peace and may light perpetual shine upon him.