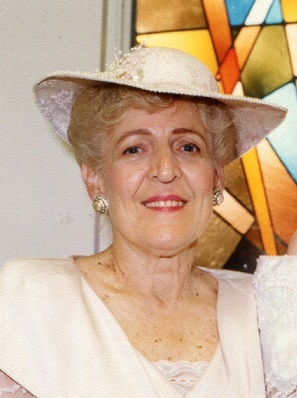 July 18, 1930 - May 31, 2022
Service
Saturday, June 4, 2022 at 10:30 a.m.
Burial
Greenwood Memorial Park
Norma Jean Ravetto

Born July 18, 1930 in Gary, Indiana, Norma Jean (Gobbie) Ravetto peacefully passed away in the sun drenched morning of Tuesday, May 31, 2022 in Westerville, Ohio in the presence of her daughter Teri and son-in-law Kirk Finfrock. Norma was a friend to everyone she met, she was a renegade and free spirit, she was kind, and she was mischievous. She was never without a joke, she loved telling stories (and often a tall tale or two). She never left the house without some glitzy jewelry, a red lip, and her signature scent "White Diamonds" by Elizabeth Taylor.

While she called many places home during her almost 92 years on earth, she will forever be a proud daughter of Freeport, Pennsylvania. In Western Pennsylvania she met the love of her life Donald Ravetto. The two were high school sweethearts, she was a cheerleader for Freeport High School and he played for the rival high school in Leechburg. They loved the Pittsburgh Steelers, they loved to dance, laugh together and share ice cream. Norma always said that Don could've played for a college team, and maybe the NFL, but he chose to stay in Leechburg and marry her instead. In high school, Norma was a trouble maker, but loved by all her teachers. She said when she graduated the faculty and staff gave her flowers and told her "We're really going to miss you Norma" and they really meant it. Norma and Don married in (1951).

Norma held many jobs, including running her own business the local Tastee-Freez. As she would tell her grandson Benjamin, among her proudest work, was her and Don's time as Organizers. He was a local Steelworkers Union President, she organized for the local Democratic Party. As she would proudly boast, she was so good at door knocking, phone banking, and writing postcards that the local Republicans tried to recruit her to work for them.

Norma gave birth to two kids, Gary and Teri. She raised them to be whatever they aspired to be. Both graduated college and received graduate degrees. Norma had four grandchildren, Austin, Benjamin, Carrie and K.C. to whom she passed down her quick wit, mischievous attitude and, most of all, her love.

Later in life, Norma and Don found their retirement home in Long Beach, Mississippi. The longtime resident of Western Pennsylvania, she quickly learned to love her new southern home. She spent her days at the hair salon, dipping her toes in the gulf sands, and tending to her plants in her garden. Her nights were spent on the slot machines at the various casinos Gulfport had to offer. She survived Hurricane Katrina, and ever the resilient fighter she rebuilt her home and moved back after the storm. In Long Beach, she met some of her best friends with whom she formed unbreakable bonds over the past 20+ years.

Through trial and triumph, Norma was always resilient. She loved to laugh, she was always ready to dance, she had an impeccable since of style, and she had love to share with everyone. She was many things, more than can ever be captured in a single obituary, but above all, Norma knew how to live a life. Proceeding Norma is Donald (2013), Gary (2018), her sisters Doris (2018) and Ruth (1993) and her mother Christine Gobbie (1990). A Mass of Christian Burial will be held at 10:30 AM on Saturday, June 4, 2022 at Immaculate Conception Church, 414 E. North Broadway in Columbus, Ohio. Interment at 2:00 PM on Monday, June 6, 2022 at Greenwood Memorial Park, 104 Melwood Road, Lower Burrell, Pennsylvania. In lieu of flowers, contributions to support student scholarships may be made to Freeport Area School District Foundation, P.O. Box C, Freeport, PA 16229.
Condolences
Velda Hofacker - Jun 5, 2022
What a wonderful lady who was the life of the party...even when there wasn't a party!!! She will be missed. My heart goes out to her family and to all who loved her. Rest in peace, Norma! I know Don and Gary were there to welcome you!! Love and prayers always!! Velda
JANELL MATUCK - Jun 4, 2022
Norma was a blessing in our life at Beau Clair. We shared many happy years living next door to her & Don.
Therese Catalano - Jun 2, 2022
Norma it was always a joy when you called. Now you are with Don 🙂
Gloria Plesac - Jun 1, 2022
My deepest sympathy. I do remember how full of life she was.