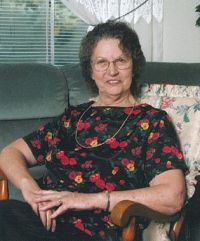 June 14, 2010
Visitation
Wednesday, June 16th from 2-4 and 6-8 p.m.
Service
Thursday, June 17th at 11:00 a.m.
THOMPSON
Grace Yvonne Thompson, age 71, of Centerburg passed away on Monday, June 14, 2010 with her loving family by her side. She was born May 19, 1939 in Mt. Vernon, Ohio to Irvin and Edith (Hall) Conkle. Grace was a member of the Centerburg Christian Church and married Cecil "Johnny" Thompson in 1956. Grace was a loving and devoted wife and wonderful mother who raised five children, continuing her family values through the love of her grandchildren. She will be eternally missed by her family and friends. Grace is survived by four sons, Doug (Becky) Thompson of Centerburg, Ohio, Randy (Debbie) Thompson of Fredericktown, Ohio, Jeff Thompson of Sunbury, Ohio and Alan (Jennifer) of Mt. Vernon, Ohio and one daughter, Kim Schwartz of Mt. Vernon, Ohio. She also leaves behind seven grandchildren, Jennie (Jason), Jessie (Chris), Josh, Joey, Corrissa (Brian), Brittany, Chase and canine "granddaughter", Imme. She had six great-grandchildren, Johnathan, Nathaniel, Trevor, Dillon, Lilly and Alayna Grace. She has one surviving sister, Pearl (Bernie) Mortimer of Mt. Vernon, Ohio. Besides her parents, Grace was preceded in death by her loving husband, Cecil "Johnny" Thompson, four brothers, Ralph, Harold, Carl and Larry, four sisters Leota Baker, Mae Albert, Jean Albert and Mabel Albert. Friends may call Wednesday, June 16, 2010, from 2:00 p.m. to 4:00 and 6:00 p.m. to 8:00 at the JOHNSON-MELICK-MORELAND FUNERAL HOME, 49 W. Church St., Centerburg, Ohio where services will be held on Thursday, June 17, 2010 at 11:00 a.m. The Rev. Carl Hankins will officiate. Interment will be in Bloomfield Cemetery. In lieu of flowers, friends, if they wish, may contribute to Hospice of Knox County, 17700 Coshocton Road, Mt. Vernon, Ohio 43050.
Condolences
Terry & Sherry Thompson - Jun 15, 2010
Sincere condolences to the family during this time of grief. Our prayers are with you.
Pereza Thompson - Jun 15, 2010
Our thoughts and prayers are with the family. God Bless~ Darrell and Pereza Thompson and Family.
Rheada Thompson (Fairchild) - Jun 15, 2010
I cared a lot for Johnny & Grace and this news is very sad to hear.
My thoughts and prays are with the family.