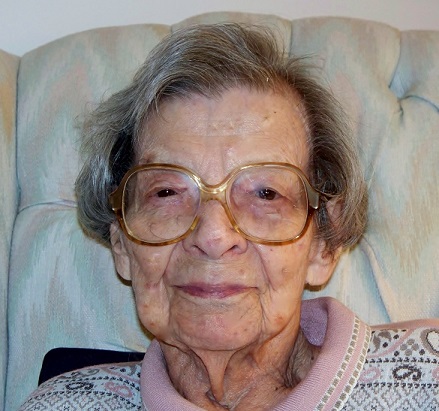 May 13, 1915 - January 24, 2016
Visitation
Friday, January 29th from 6-8 p.m.
Service
Saturday, January 30th at 10:00 a.m. Moreland Funeral Home
Burial
Pioneer Cemetery
YOUNG
Donna L. Young, age 100, passed away peacefully on Sunday, January 24th. Donna was born May 13, 1915 in Bellefontaine, Ohio. She was a long-time resident of Westerville, Ohio and most recently resided at Brookdale Chestnut Hill Senior Living. Preceded in death by her husband, Cloyd E. Young; parents, Lawrence and Faith Rudisill; sisters, Martha Rike, Mary Hatfield and Betty Kauderer. Survived by niece, Patricia (Tom) Peacock; nephews, Joseph (Clara Jo) Rike Jr., Jeff (Carol) Kauderer and Craig (Miranda) Kauderer. She was a member of Hope Church in Westerville, Ohio. Visitation will be held Friday, January 29th from 6-8 p.m. at MORELAND FUNERAL HOME 55 East Schrock Road, Westerville where a funeral service will be held Saturday, January 30th at 10:00 a.m., Pastor Durbin officiating. Interment Pioneer Cemetery. Donations may be made to the James Cancer Hospital at www.cancer.osu.edu
Condolences
Patricia Peacock - Jan 27, 2016
Aunt Donna, rest in peace! You have been a wonderful aunt to all of us and led a long, wonderful life. You will now reside in Heaven with your sisters and parents.
Love you.
Pat and Tom
Diana Coomer - Jan 26, 2016
I will always remember the fun times I've had with Aunt Donna from the time I was a child until an adult. She and Uncle Cloyd we're quite the pair. She lived a long life and was loved by all. I will certainly miss her, but have comfort knowing that she is with her sisters now.
Phyllis Wardell - Jan 26, 2016
Donna was a fun loving christian lady who is in Gods care I enjoyed having dinner with her and Dawn at der deutchman. Many blessings to her family