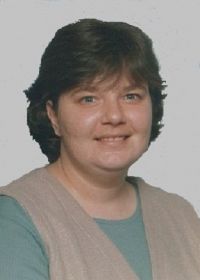 September 10, 1969 - June 21, 2011
Visitation
Saturday, August 13th from 10-11 a.m.
Service
Saturday, August 13th at 11 a.m.
REED
Betty Sue (Collins) Reed, age 41, passed away June 21, 2011 at St. Mary's Medical Center in Huntington, W.VA. Born September 10, 1969. A resident of Perry County, OH for the past 18 years and formerly from Columbus, OH where she was a graduate of Brookhaven High School and attended CSCC for 2 years. Member of Anchor Church, Zanesville, OH. Preceded in death by her father, Dave Russell Gamble; grandfather, Raymond "Paul" Collins; uncles, Dan Collins, Ron Collins and his wife Connie. She is survived by Jeffrey Reed of Junction City, OH; 2 children, Erica and Paul; 2 grandchilden, Hannah and Kirby; mother, Suzanne (Collins) Walters and grandmother, Betty Collins, both of New Lexington; brothers, Steven and Eric Walters both of Columbus; half brother and half sisters, Heather, Dawn, Mike and Dave Gamble, all of Van Wert, OH; aunts, uncles and cousins; longtime friends, Georgia Palmer of Somerset, OH and Jeff Blevins of Zanesville, OH. A memorial service will be held Saturday, August 13th at 11a.m. at the MORELAND FUNERAL HOME 55 East Schrock Road, Westerville with visitation one hour prior. Inurnment will follow at Blendon Central Cemetery.